General Information
Qualified pre-analytics is an important precondition for meaningful laboratory medical diagnostics.
In order to improve cooperation and the quality of the results, we would like to point out the importance of pre-analytics.
Pre-analytics includes all steps taking place before the actual measurement in the laboratory (i.e. in the doctor's practice or at the sender's):
Laboratory requirements and/or correct selection of the analysis
Proper completion of the request form
If necessary, special patient preparation (fasting, medication status)
Clear sample identification and exact sample collection
If necessary, sample preparation (centrifugation, freezing)
Correct sample storage (e.g. refrigerated, frozen, protected from light)
Sample transportation
Everywhere disturbances and errors may occur that may influence the measurement result in a diagnostically relevant way, bearing the risk of incorrect evaluations of the laboratory tests. In principle, the disturbances occurring in pre-analytics can be divided into patient-related influencing factors (in vivo) and other influencing factors (in vitro).
Patient-related influencing factors
Unchangeable influencing variables:
Age, sex, pregnancy, hereditary factors, ethnic origin
Variable influencing variables:
Time of sampling, body position, food, body weight, physical strain, stimulants, medication, disruptive factors such as lipaemia, hyperbilirubinaemia and in-vivo-haemolysis
Other influencing factors
Sampling

Choice of correct sample tube (additives of anticoagulations)
Sampling technique (sequence of sampling, dynamic pressure, aspiration suction)
Contamination of the samples with infusion or disinfection solution
Insufficient filling of the tube
Storage/Transportation

Non-compliance with transportation and storage regulations (temperature, light protection)
Period between sampling and transportation to laboratory
Pre-treatment of materials (centrifugation)
Disregarding in-vivo influences (lipaemiae, hyperbilirubinaemia, haemolysis)
Labelling the sample containers and sample catching
Please also note our pre-analytics brochure.
The safe assignment of patient, sample and order form is most important as organizational and administrative errors are the most important reason for incorrect laboratory results.
The labelling of the sample tube should be done prior to collection and checked again when the sample is collected.
Ideally, please use the barcode labels provided by us to ensure clear sample identification.
The corresponding barcode label must be congruent on the corresponding request form.
A separate barcode set must be used for each patient.
Please attach the barcode labels vertically to the top of the container (see position A).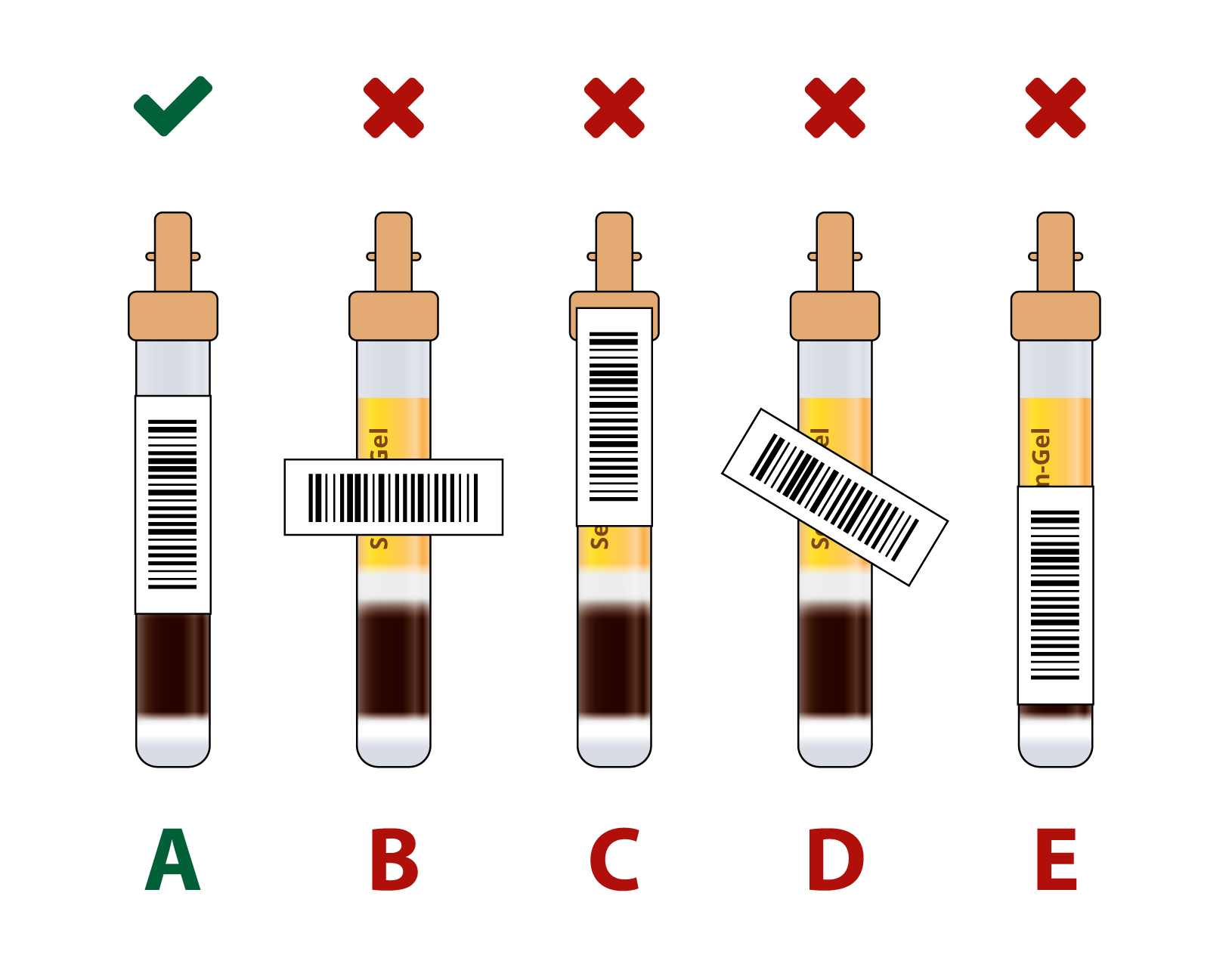 Figure 1
If the sample containers are labelled by hand, the following data must absolutely be noted:
Patient name (first and last name)
Patient date of birth
Designation after centrifugation: serum or plasma
Infectious materials (e.g. blood of an HIV or hepatitis patient) must be labelled!
If samples are re-sent (e.g. frozen material), it should be noted on the sample that it is re-sent material.
Essential information on the request form
Sender (medical practice, address, telephone/fax)
Patient name, first name, date of birth, gender, address and insurance provider
Examination order (correct marking of the parameters to be examined)
Body height and weight
Identity assurance or confirmation (patient's signature on the request form)
Type of primary sample, date, exact time of sampling
Medication
Marking of infectious material
Additional information for special analyses
Collection quantity and time for urine collected
Clinically relevant, diagnostic information, e.g. for hormone tests date of last menstruation
Additional information to be observed:
Sample containers must be closed correctly and leak proof
Avoidance of impurities/contamination of the sample material
Sufficient sample quantity
For genetic testing, the patient's declaration of consent is absolutely necessary (see overleaf request form)!
Sampling
Every blood sampling causes an injury to blood vessels (arteries, veins, capillaries). Only perfect and sterile material may be used. Appropriate disposables are available for blood collection. For the puncture, cannulas with a not too fine lumen should be used. The venous blood should be taken at a suitable point in the area of the crook of the arm, forearm or back of the hand. The existing influencing factors must be taken into account.
In general, sampling should always be carried out under standard conditions if possible:
Blood sampling between 7.00 and 9.00 a.m.
No extreme physical activity in the last three days
No alcohol excesses several days before blood sampling
At empty stomach, i.e. a period of food fasting from 12 to 14 hours and a period of alcoholic fasting from 24 hours
Always collect blood samples in the same position (sitting or lying)
Rest at least ten minutes before taking the blood sample
Avoid opening and closing the fist: "pumping" of fist leads to haemolysis
Avoid stowage for too long: Stow for a maximum of one minute (better 30 seconds), release the jam, take blood
Sway the anticoagulant tubes 3 times immediately after collection, do not shake!
Store serum and serum-gel tubes in an upright position for at least 30 minutes and then centrifuge at 4000 rpm for 10 minutes

Important: Blood must absolutely be centrifuged within 1 hour to prevent haemolysis!
Special material features
Haemolytic serum (haemolysis)
During haemolysis, the red blood cells (erythrocytes) contained in the blood are destroyed, releasing haemoglobin. The serum or plasma of a haemolysed blood sample has a more or less strong orange-red colour, depending on the degree of haemolysis.
Haemolysis can occur intravasally due to excessive stasis or extravasally due to excessive aspiration during blood collection. Contamination, excessive cooling or heating, excessive shaking of the sample or exceeding the storage times for whole blood are further factors promoting haemolysis.
Haemolytic samples are a common problem in laboratory practice, which leads to a falsified analysis (wrongly too high and wrongly too low measured values), especially in colour and turbidity measurements.
Lipemic serum (hypolipoproteinaemia)
Lipemia is a milky cloudy discoloration of serum / plasma by neutral fats.
A lipemic sample can be an indication of a disturbance of the fat metabolism. Thus, certain fats (chylomicrons) form a creamy looking, top layer after 24 hours of cooling. Other fats lead to a homogeneous turbidity of the plasma.
The presence of excessive amounts of lipids in a sample leads to interference, especially in photometric measurements.
Note: A blood sample taken immediately after a high-fat meal can also lead to a lipemic sample.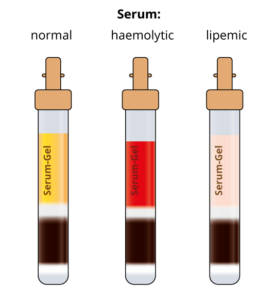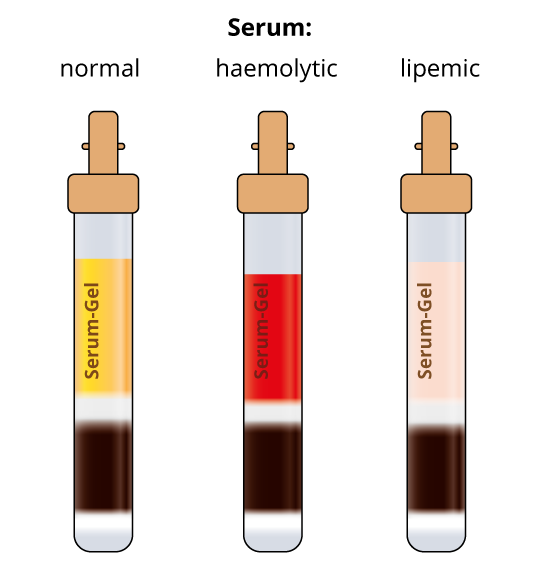 Figure 2
Preparation for sample shipping
For various laboratory tests it is most important that special transport conditions are observed to ensure reliable results (immediate centrifugation of the sample, separation of the serum/plasma from the blood cake, freezing of the sample, storage or transport at a specified temperature, light protection, etc.).
Please find corresponding information on our request form.
Shipping of samples
Samples can be sent via German Postal Service or with our transport service. Please use the appropriate transport shipping bag provided by us.
Important note:
Only one mailing bag should be used for each patient!
If there are two request forms for a patient, a separate envelope should be used for each request form! Only already centrifuged sera or plasma samples are suitable for mailing. Whole blood is not suitable for transport over several days. Frozen samples are transported to the laboratory in appropriate cooling containers without interruption of the cooling chain by our transport service.
Please ensure that the stability of the analytes is not endangered, especially when sending them by post over the weekend. Express samples must arrive at the laboratory within 24 hours and may only be sent from Monday to Thursday and not on Fridays or public holidays. These samples must be sent by express mail by Deutsche Post to our home address (not P.O. Box) or by the transport service. Sample collection and transport service can be requested by telephone via our central office:
06431-21248-0
Material ordering
All sample and shipping containers are provided by the laboratory free of charge. Please use the special order form for shipping material.
Contact in case of questions
Please do not hesitate to contact us for further questions or specific requests.
06431-21248-0